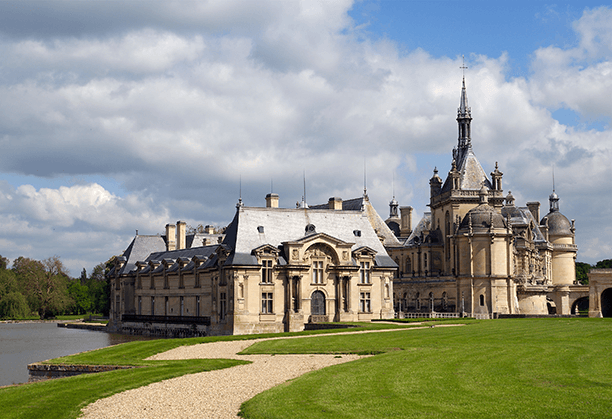 Château de Chantilly H-Day
Situated 45 minutes away from Paris, this sumptuous Château, built in the Renaissance style and standing in the middle of a lake, highlights the history of the Condé family. The state apartments are decorated with fine wood paneling and valuable 18th -century furniture. The Château also contains the Musée de Condé featuring works by Raphael, Delacroix and Poussin.

Architect Jean Aubert built the Grand Stables at the request of Louis-Henri de Bourbon, the seventh Prince of Condé. The legend says that the Prince was convinced he would be reincarnated into a horse and therefore wished for stables worthy of his rank.

The Horse Museum is an introduction to the equestrian world. It has 31 rooms dedicated to paintings, sculptures, and ceramics focusing on everything equine-related. Twice a day there are dressage demonstrations in the building's equestrian theater.

Laid out by Le Nôtre, Chantilly's gardens dazzled Louis XIV. The Sun King, became jealous, and wished to have the same water games for himself at Versailles! Within the Chantilly gardens you will discover the superb English garden (1820), St John's Chapel built by Anne de Montmorency in 1538, a fan shaped waterfall, and the Grand Canal.
Chantilly is surrounded by over 15,000 acres of forest virtually unchanged since the 18th-century. There is a large network of forest roads that are ideal for walking. It is also the home of the Institute of France.
SERVICES

• Pick up/Drop off location: Your hotel
• Inclusions: Car & Knowledgeable Driver
• Confirmation: Non-refundable within 24 hours
• Notes: Entrance fees not included
• Days: every day except Tuesday


INFORMATION

Departs: Based on your request
Pick up/Drop off location: Your hotel